Mountain Dental Lab continuously researches, tests and perfects materials and techniques that quench your thirst for an ideal dental restoration, as shown in Inside Dental Technology.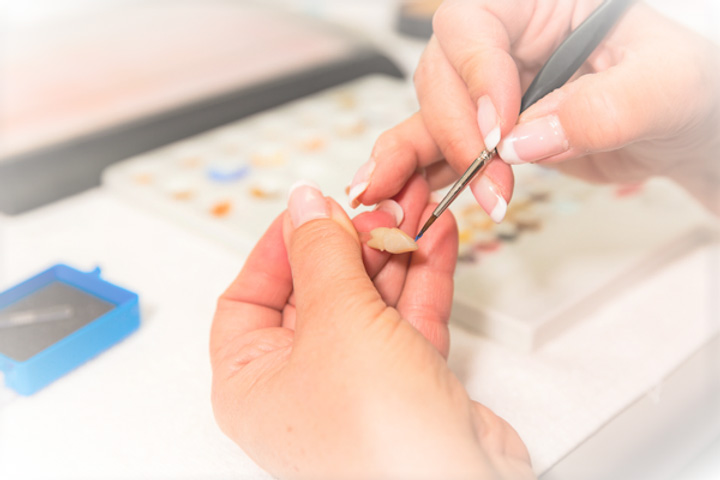 "Premium Products Help Laboratory Owner reach Ambitious aspirations
One company provides equipment, materials, and now a digital denture solution
George Zoller, CDT, had a clear vision for Mountain Dental Lab when he and Danny Ingle joined forces as owners approximately 13 years ago. Zoller had previously helped build another successful laboratory before working as a consultant for a few years, and he brought that breadth of experience to the new venture, which he and Ingle were able to mold to their liking.
"We were not interested in owning a commercial laboratory and having impersonal relationships with clients," Zoller says. "We wanted to be recognized as a relationship-oriented laboratory. We wanted to really feel we were a part of the dental practice and that we brought value to the dental team. We wanted to be a resource in terms of education, materials, service, etc."
The venture has been a success. Mountain Dental Lab is now a 13-person operation in a 5,000-square-foot facility, serving mostly regional clients but also some nationwide.
"We have found that clients who are of that same collaborative mindset gravitate toward us," says Zoller, who specializes in implants and education. "The client that comes here is interested in what we do, how we do it, and how it complements their practice."
Mountain Dental Lab's slogan is, "We love being part of your practice." The laboratory's three guiding principles are being a part of the dental team, providing only the finest materials, and good, old-fashioned customer service.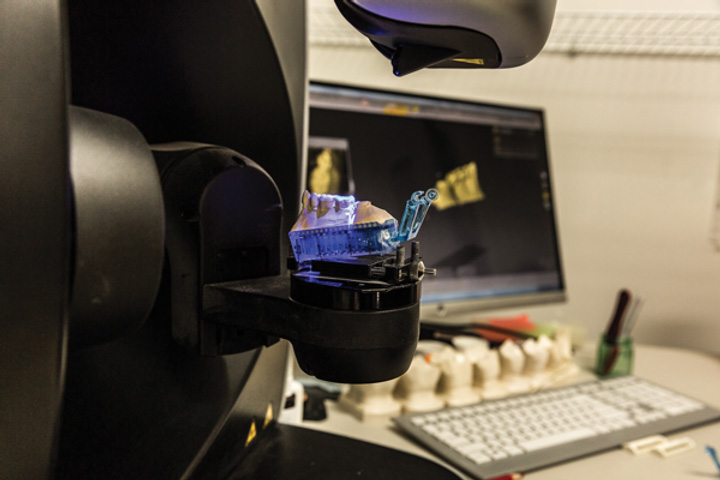 Mountain Dental Lab utilizes Sirona's McX5 and inLab as one of their CAD/CAM systems to scan, design, and mill digital dental restorations in-house.
lped the laboratory fulfill those promises. Zoller began using the company's CAD/CAM equipment more than a decade ago and acquired an inLab MC X5 mill and an inEos X5 scanner approximately 2 years ago.
More recently, Zoller began using Dentsply Sirona's Celtra Press zirconia-reinforced lithium silicate (ZLS) material. The chemical properties of this high-strength glass-ceramic create a unique microstructure that provides esthetics, strength, and efficiency.
The specially developed Celtra Press investment minimizes the formation of a hard reaction layer between the investment and the press restoration. Along with a lower pressing temperature than lithium disilicate, this eliminates the need to use cleaning fluid containing hydrofluoric acid.
"We fabricate a high volume of lithium disilicate restorations, and the first thing we noticed when we began using Celtra Press was the reaction layer, which saves an incredible amount of time," Zoller says. "It is not necessary to put the restoration in an acid bath, worry about the fit, or worry about the margins chipping. Right away, that was a significant benefit for our workflow efficiency."
Celtra Press also displays a high level of translucency that is unusual for materials with flexural strengths higher than 500 MPa.
"Empirical evidence in the laboratory confirmed that Celtra Press did what they said it was going to do," Zoller says. "We were particularly impressed when we saw the vitality and the effect of this material in the mouth."
To build that level of confidence among dentists, Zoller fabricated two crowns for each case for some clients—one from the prescribed material and one from Celtra Press.
"When dentists put Celtra Press in the mouth, they usually selected that option," he says. "We now use it for almost every restoration where it's appropriate to the shade."
As Mountain Dental Lab continues to strive to provide its customers with the best products and service, Zoller has been investigating digital dentures. He has paid particularly close attention over the past few years to AvaDent Digital Dental Solutions, which has partnered with Dentsply Sirona to create Dentsply Sirona Digital Dentures, a digital solution that provides superior fitting dentures made with Lucitone 199® Denture Base Discs and Portrait® IPN® Denture Teeth.
"Clients are starting to call us about digital dentures, so we hope to offer that service soon," he says. "I am really anxious to continue learning about the partnership between AvaDent and Dentsply Sirona and the developments that arise from it."
The prospect of working on digital dentures with the same company that provides CAD/CAM equipment, materials such as Celtra Press, and more is enticing to Zoller. Dentsply Sirona Digital Dentures offer wide-ranging benefits; the denture materials are optimized to work with Dentsply Sirona scanning and milling machines but can be used with a wide range of equipment from other manufacturers. Whether laboratories choose to mill in-house or scan and outsource the entire process, Dentsply Sirona Digital Dentures offer flexible solutions and provide superior results for either Portrait bonded dentures or monolithic ones.
"It is certainly an advantage to have all systems running in the same gear, and to have the same company providing not only the materials but also the equipment for every need," he says. "They can handle everything. When you are working through cases, it is nice to have that range of abilities within the same family. In the future, as the merger matures, it will be fantastic for consistency across the board."
For more information, contact:
Dentsply Sirona Prosthetics
dentsplysirona.com
800-243-1942″
Source: Inside Dental Technology Magazine: October 2017 Issue